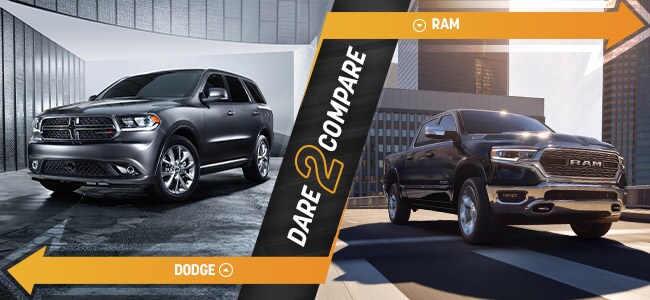 Many people know that the names Dodge and RAM are related, but most folks don't know exactly what sets these brands apart. The two brands have a history together, but today they each specialize in their own areas.
A Brief History of Dodge
Dodge is an American manufacturer of automobiles that originated in the early 20th century. For much of the mid- to late-20th century, Dodge focused on trucks and large passenger cars. In the 1990s, Dodge began to put more focus on performance vehicles, and even released the Dodge Viper supercar. In the same decade, the second generation of the Dodge Ram was released, a full-size truck that had debuted in 1981.
The Split of Dodge and RAM
The Dodge Ram was the top-selling truck, so when the company decided to create a distinct brand for their trucks, they decided to name it RAM. RAM became its own brand in 2010, focusing solely on trucks, while Dodge would continue prioritizing high-performance cars and SUVs. Both brands remain part of Chrysler, which has owned Dodge since 1928.
Today's Dodge Vehicles
When you think of Dodge today, you probably picture muscle cars and bold SUVs. Dodge specializes in these segments, and is known for its powerful and iconic Dodge Challenger and the Dodge Charger. The Dodge lineup also includes sophisticated, sporty family vehicles, like the Grand Caravan minivan and the handsome Durango SUV.
Today's RAM Vehicles
RAM specializes in powerful trucks fit for a hard day's work. The full-size RAM 1500 is packed with modern technology, premium materials, and sophisticated design, all while offering powerful options under the hood capable of towing impressive weight. The heavy-duty versions of the full-size RAM provide additional capabilities for the tougher jobs, and with large vans and a rugged chassis cab in the lineup, RAM has a hardworking vehicle for any occasion.
You can find current Dodge and RAM vehicles here at Tom Kelley CDJR.
Make an Inquiry